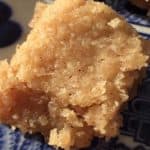 Pick Your Favorite Vanilla Sugar Shortbread Cookies
Ingredients
3 1/2

cups

All-purpose flour

1 1/2

cups

Your favorite spiced vanilla sugar

1

pound

(4 sticks) chilled salted butter, cubed
Instructions
Preheat oven to 350. Place your cubed butter and your favorite vanilla sugar in a mixing bowl and cream together. Next add in your flour one half cup at a time and incorporate until no flour remains. Mixture should be slightly crumbly.

Pour your cookie mixture onto an ungreased 15 x 10 x 1 cookie sheet. Flatten out mixture with your hands or press down with the back of a spoon to fit entire cookie sheet evenly. Pierce holes with fork all over uniformly to help cookies bake through.

Place in your preheated oven and bake for 25 to 30 minutes. Let cool slightly and then slice into about 2 inch long pieces and let continue to cool. Super delicious--enjoy!